The 2022 Team Bash was amazing!
And more importantly, we got to celebrate you!
"True followers of Christ humbly serve like Christ because they know their salvation rests on the sacrifice of Christ."
It has become a tradition for us every year at the Team Bash to recognize 7 FCCers who embody our Team Code by giving them a game ball signed by all the Staff and Elders.

The following 7 people were the recipients of the 2022 Team Code Awards:
Team Code Game Ball # 1 Recipients - Dale & Karen Thompson
Team Code Maxim #1 says, "We enjoy the fellowship of mutual surrender to the mission." – Dale and Karen have long enjoyed the fellowship of mutual surrender to the mission. In fact, a number of years ago, when he was an Elder, we all did a personality profile and his said that he was "refreshing to have on the team!" They are the epitome of faithful servants. They may not be too sure about how a new method works but they are on board to learn because they know that the mission is more important than the method and they are sold out to mission. They willingly serve every week and they do it with a smile. They lead in Kids, Guest Team, and Life Groups. They show their love of Christ in their service. They would fit well with lots of the Team Code.


Team Code Game Ball # 2 Recipient - Jody Gourley
Team Code Maxim #2 says, "We 'praypare' as if souls are at stake, the Word does the work, excellence matters, and feedback helps." – Jody has been a rock during the Covid storm. He's a Kids Service Leader and shows up faithfully (with his kids in tow) to hold down the main fort. He's also consistent as a deacon, not to mention an example of Biblical husband/fatherhood. He never complains and never seeks the spotlight yet always steps up when needed - usually before anyone else is aware that the need exists. We truly can't imagine how we'd survive at Greeneville without him."
Team Code Game Ball # 3 Recipient - Rick Mearns
Team Code Maxim #3 says, "We value people over policies, principles over preferences, and growth over control." – Rick embodies growth over control. He is "is super passionate about learning and growing in his relationship with Christ and in the ministry areas where he is involved. He initiated a leadership development trip last year. He is faithful, authentic, and most of all, willing to do pretty much anything at any time that he can."
Team Code Game Ball # 4 Recipient - Hannah Staggs
Team Code Maxim #4 says, "We celebrate everyday boring faithful service." – Hannah embodies #4 every single Sunday by showing up before most people get there to start serving in ways that are so important. She's even helps clean the bathrooms without complaining! She is always willing to learn new things and does it with a smile. If there is a Sunday when she isn't there, there is definitely a noticeable Hannah gap!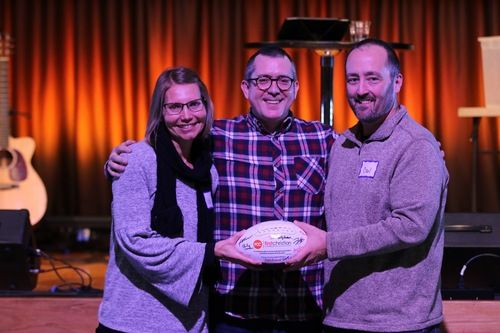 Team Code Game Ball # 5 Recipients - Carl and Christa Larsen
Team Code Maxim #5 says, "We have a growing-by-learning mindset, not a fixed one." – Carl and Christa have continued to say yes to greater leadership in ways that embody a growing-by-learning mindset. Carl has been faithfully serving in Tech for awhile, learning to lead many complicated machines and processes. Christa has been faithful in Kids Min, even helping train her own children how to teach and lead a classroom well. They are going beyond their comfort zone in leading a re|engage group but want to because they love God and want to minister to couples as they have been ministered to. Both of them are quiet, faithful leaders who do whatever is asked of them.
Team Code Game Ball # 6 Recipient - Darrell Wright
Team Code Maxim #6 says, "We lead with vulnerability." – Darrell has jumped right into being a key piece of our body, and we can't imagine FCC without him! Not only did he literally learn an instrument because the need was there, but reads and responds to the Heartbeats on Basecamp, and he does sooo much homework, spending days working on some songs, working on his re:gen book, and he is always on time and prepared for practice, but most of all, he communicates the kind of humility that gives credit for his relationship with Jesus to Jesus and it shows in how he tells the story of God's work in his life!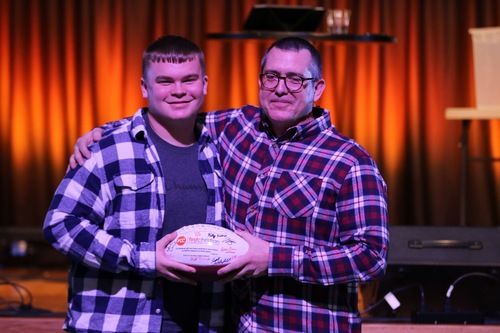 Team Code Game Ball # 7 Recipient - Rance Tipton
Team Code Maxim #7 says, "We multiply influence by reproducing leaders." – Rance is incredibly faithful in his walk with the Lord, and in the areas where he serves, but he is also faithful in sharing God's work in his life. It's so encouraging to see a young person so devoted to Christ who looks for opportunities to invite friends and tell the story of God's work in his life!